We wanted to provide a more useful way of understanding how players in the NFL are projected to perform week in and week out in Fantasy Football. Wisdom of the crowd is an underlying principle leveraged by many within the statistics community to bridge the gap between both intuitive pundits and statistical forecasts. There is value in examining both perspectives. A few things can be discovered such as biases, uncertainty, and ultimately opportunity when examining expert projections.
R Script
The R Scripts (an R Markdown files) for WR gold mining is located here:
https://github.com/FantasyFootballAnalytics/FantasyFootballAnalyticsR/tree/master/R%20Scripts/Weekly%20Projections/Gold%20Mining
Gold Mining: What are we doing?
At it's core, we're aggregating "experts" actual projections of players' weekly performance. "Experts" range from well known pundits to companies' statistical forecasting algorithms. In the end, the difference between the two is negligible as the information we seek comes from aggregating these sources.
What's different about this?
Many sites and people that aggregate fantasy football statistics often aggregate rankings. While aggregating rankings can be helpful, the reader loses granularity of the difference between rankings.
Simple Example:
Calvin Johnson is unanimously ranked #1
AJ Green is unanimously ranked #2
Jordy Nelson is unanimously ranked #3
If we simply left our analysis at this point, we would clearly understand the pecking order established: Johnson > Green > Nelson. However, imagine the alternative:
Calvin Johnson is projected 25 points
AJ Green is projected 16 points
Jordy Nelson is projected 15 points
Knowing that Nelson is the #3 best WR is hardly relevant when you consider he's only 1 point behind Green. As a manager, understanding these differences is vital to get a sense of upside and ultimately value to your team.
One step deeper
We're not satisfied with just knowing the aggregated projection of a single point estimate. The human mind tends to prefer to think about the world as specific numbers, instead of confidence intervals. It's also important to think of these projections in terms of the variation (uncertainty) each aggregation possesses.
Consider our previous example now with confidence intervals.
Simple Example 2.0:
Calvin Johnson is projected between 20-30 points
AJ Green is projected between 14-18 points
Jordy Nelson is projected between 5-30 points
Had we left our analysis at aggregation of projections, we may not have discovered Jordy Nelson's extremely high ceiling. For a manager projected to lose but in desperate need of a win, starting Nelson over Green would be recommended because Nelson has a higher ceiling than Green. Something about his team, matchup, etc. is giving him a high variation which could result in big points in a big game.  It is also possible, however, that Nelson could bust because he also has a low floor.  Thus, you should pick the right players to start based on your team's needs.
How can you pick the right players to start?  See the graph below: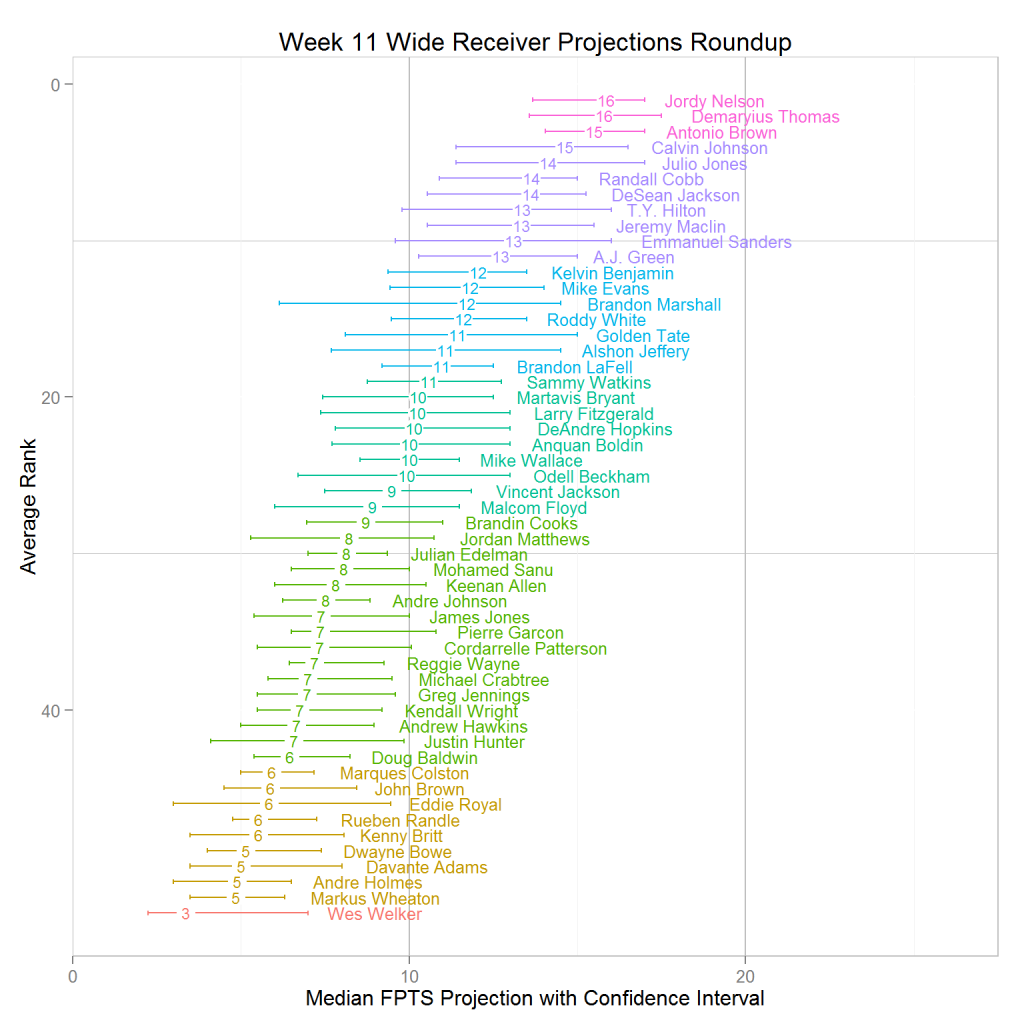 What's our graph showing?
We've discussed the value of understanding point projections over rank projections, but getting a sense for ranks can also give us insight into players that may be statistically incorrectly ranked. You'll notice that some players have higher point projections than their peers within their tier.  We show different tiers in the graph using different colors. Players with the same color are considered to be in the same tier.  Tiers were calculated statistically with a cluster analysis in the mclust package in R.  The number inside the tier is the player's robust average across sources of projected points (using the Hodges-Lehmann estimator also known as the pseudo-median—calculated from the wilcox.test function in R).  This value can be considered the "most likely" number of points the player is projected to score.  The line reflects the 10th (floor) and 90th (ceiling) percentiles of a player's projected points across analysts.
What can I do with all of this information?
At the end of the day, the best way to use this information depends on your situation (e.g., picking players with high ceilings when you are projected to lose and picking players with high floors when projected to win). Typically it works well to identify waiver wire pickups that have a high variance (tons of upside) or perhaps you can identify players that are sure bets week in and week out. The key is to look for players that tend to "break the mold" of the data. These players tend to have the most interesting stories.
Aggressive managers tend to try to find players that have high variation with low averages (which means other managers/experts might undervalue them).
Conservative managers tend to find solid week in and week out contributors.
I don't get it
Ask your questions below in the comment section, we're happy to help explain more specific questions as they arise! Good luck everyone!