Do Stats Help in Fantasy Football?
18
I've presented statistically-informed draft strategies for snake and auction drafts, arguments to use projections rather than rankings, evidence that the most accurate source of projections is the wisdom of the crowd, and tools for calculating projections and identifying sleepers.  This all begs the question: do statistics work in fantasy football?  Many people have asked how my team did in fantasy football this season.  Here's your answer: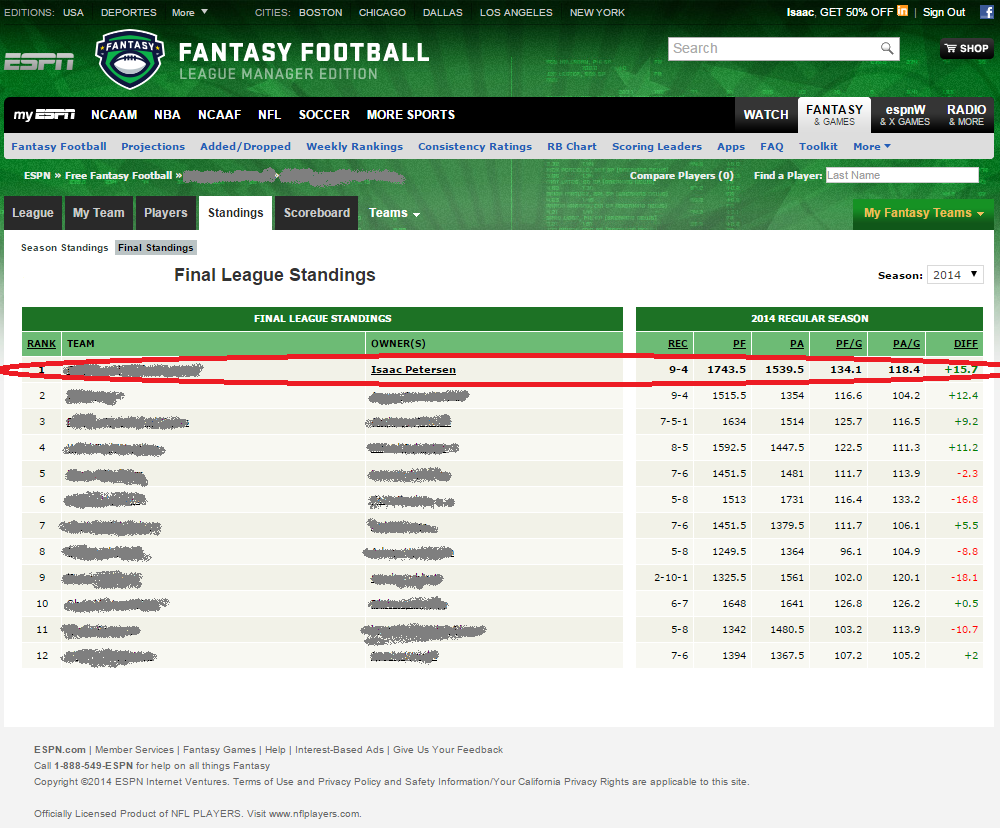 I won my league's regular season and championship and scored nearly 100 more points than the next highest scoring team.  I'm hesitant to attribute all of my success to statistics, however.  Football is a game with lots of chance.  Projections are somewhat accurate but have lots of room for improvement—they explain about one-half to two-thirds of the variance in fantasy performance.  That means that there's a lot we can't currently predict (e.g., injuries, trades, number of touches from week to week).  Weekly projections are likely even less accurate than full season projections because weekly projections have a smaller signal-to-noise ratio due to a smaller sample size (fewer plays).  As a result, I wouldn't bet the farm on fantasy football, especially weekly fantasy football.
Nevertheless, statistics gives us a starting point for making more accurate decisions that are less biased than those decisions made by individuals' judgment.  According to the law of large numbers, with a large sample size (games, trials, etc.), the sampled value should approach the expected value.  In other words, in a small sample of games, a player may show lots of variability and randomness from week to week in their scores.  Over the course of a season, however, some of this randomness will average out, and the player's points should more closely approximate his average/expected value (not necessarily his projected value, however).  Anyone can get lucky any given week and out-predict the statistics.  But, just like the stock market, the statistics tend to win out over time.
Summary
Statistics are helpful in fantasy football up to a point—projections are not incredibly accurate because football involves lots of unpredictable chance.  Betting on weekly fantasy football is exactly that: a gamble.  Nevertheless, statistics are helpful because they are more accurate than individuals' judgments over the long term.