Download our Fantasy Football Projections
181
This post outlines how to download our fantasy football projections, which include more sources of projections than any other site and are the most accurate fantasy football projections available.  You can download projections that are customized to your league settings, using a "wisdom of the crowd" approach that combines more sources of projections than any other website.  The projections are calculated by weighting projection sources according to their historical accuracy.  You can even choose how much weight to give each source.  Note that in order to download historical projections, you'll need an FFA Insider subscription or access to our API.  Our historical seasonal performance data go back to 2008.  Our historical weekly projections go back to 2015.
How to Download our Projections
Open the Projections tool.
To get customized projections for your league:

a. Click "Change Data Settings" (top left of the page).

b. Specify the projections you want to download, based on the season, week, positions, analysts, calculation type, analyst weights, and your league scoring settings.

c. Click "Update" at the bottom of the "Data Settings" dialog box to update the projections to your customized settings.

Click "Download" (top right of the page).

a. To download custom rankings based on projected fantasy points, select "Custom rankings".

b. To download projections for each statistical category (e.g., passing yards, rushing TDs), select "Raw projections".
The output is a .csv (comma separated values) file that can be opened in R (using read.csv()), most text editors, and Excel.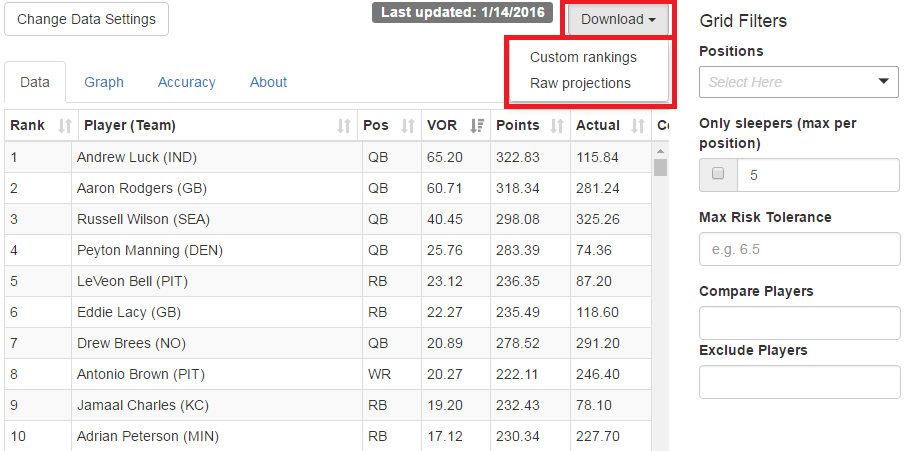 Download Projections with R
If you'd rather download projections with R, you can also download projections using our ffanalytics R package.
Download Projections with our API
You can also download projections using our API.