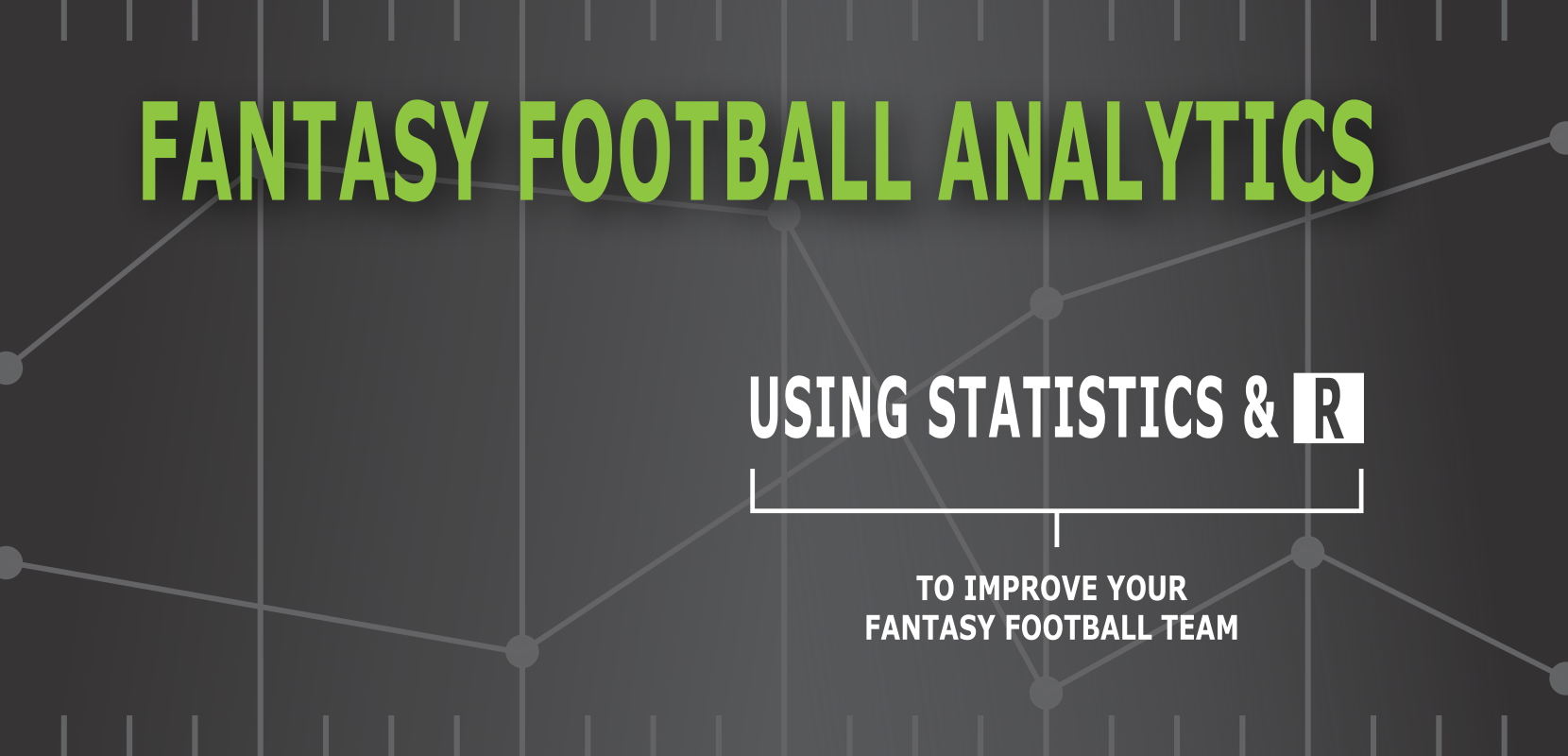 About the Website
Fantasy Football Analytics is a website for statistical analysis in fantasy football.  It is a community for people who want to:
improve their performance in fantasy football using stats,
learn advanced statistical analysis approaches,
or learn the statistical software R.
How We're Different
We calculate fantasy football projections using a "wisdom of the crowd" approach from more sources than any other site (see below for a list of sources of projections we include).  These "wisdom of the crowd" projections are the most accurate projections available and are more accurate than any individual source, including FantasyPros (see here).
Unlike other sites that provide crowd projections:
We calculate rankings and projections that are customized to your league settings.  To get custom projections for your league, see here.
We consider the uncertainty of players' projections (floor and ceiling).
We provide advanced metrics (e.g., VOR, risk, dropoff, sleeper, ROI).
We provide advanced graphics to help you make sense of the advanced statistics.
We allow you to calculate projection accuracy using our large database of historical data (see here).
Fantasy Football for the People, by the People
Another way we're different is that we make all of our scripts available for free.  Our slogan is "Fantasy Football for the People, by the People."  We feel that, by making our scripts freely available, more people in the community will learn R/stats and contribute to the project.  For more info how to download our scripts, see here.  If you create new scripts or make changes to our scripts, you are encouraged to share them with the Fantasy Football Analytics community.  This is why we make the scripts available to you for free—so the community can collectively use and improve them.  This benefits everyone.  For info on how to share your scripts with the community, see here.
How we Calculate Projections
We calculate "wisdom of the crowd" projections by aggegating multiple sources of projections.  We allow users to aggregate the sources by calculating a mean, weighted average, or robust average.  We include the following sources of projections in the calculations: CBS Sports, EDS Football, ESPN, FantasyData, FantasyFootballNerd (only their free projections), FantasyPros, Fantasy Sharks, FFToday, FOX Sports, NFL.com, numberFire, RealTime Fantasy Sports, WalterFootball, and Yahoo Sports (from Pro Football Focus).  We also include subscription projections in our calculations, but the subscription sources are not publicly available, so we chose not to disclose the names of the sources.
We use player information (e.g., name, position, team) from NFL.com, MyFantasyLeague, and the sources of projections you select.  Expert Consensus Ranking (ECR) comes from FantasyPros.  Average Auction Value (AAV) comes from ESPN, MyFantasyLeague, NFL.com, and Yahoo Sports.  Average Draft Position (ADP) comes from Sports, ESPN, MyFantasyLeague, Fantasy Football Calculator, NFL.com, and Yahoo Sports.  Risk comes from a combination of our metrics of uncertainty risk along with estimates of injury risk from Sports Injury Predictor.  To calculate projections, we use the statistical software R.
Why R?
R is free and open source, and has great flexibility for advanced statistical techniques and graphics.  You can download it here.  We strongly recommend the RStudio text editor for working with R scripts.  R scripts and data files for this website are located in our GitHub repository.  For info on how to download and run our data and R scripts, see here.  For info on how to download our ffanalytics R package, see here.  For reasons why R is better than Excel, see here.
How Can I Learn R?
For info on how to learn R, see here.
What is FFA Insider?
FFA Insider is a subscription service with premium content for helping you win your league. For more info about FFA Insider, including what you get and how to sign up, see here.
Frequently Asked Questions
For frequently asked questions, see here.
Authors
In the Media
Learn more about Fantasy Football Analytics by listening to this Rotoviz interview with Isaac Petersen (segment starts about 25 minutes in):
Contact Us
If you have questions best suited for the community, please ask them in the site's comments (so we can answer other people if they have the same question).  To contact us about FFA Insider, see here.  To contact us with other matters, see here.