2018 Fantasy Football Projections
96
We are updating our Shiny App and API with 2018 fantasy football projections. As always, the projections incorporate more sources than any other site, and have been the most accurate projections over the last 5 years. There is also a gold mining chart for ease of use and reference during a draft and the ability to compare ADP to projections to find undervalued players. You can access the Projections tool via the app here:
http://apps.fantasyfootballanalytics.net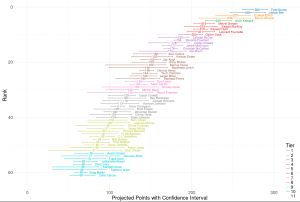 For instructions on how to use the app, see here.  We also have a Draft Optimizer tool (see here).  See our articles on how to win your Snake Draft and Auction Draft.  We will be updating the projections as the season approaches with more sources of projections.
You can find more information about our API here.