Lessons Learned From Previous 1st Round Picks
25
The thrill of the Fantasy Football season commences when the draft begins and you get ready to make your 1st round selection. For a brief moment when you're on the clock, about to make your pick, you begin to hesitate despite all the research or preparation that you may have done leading up to the draft. Nobody wants to make a bad first pick and in most cases you will end up taking a player that you either like or have confidence in, no matter what your preparation has told you. It is the pick that will set the tone for the rest of your draft, as you essentially try to fill your team around that player.
29 out of 72, or 40.2% of the top-12 projected fantasy football picks ended up being one of the actual top-12 picks in the last six NFL seasons. One of your draft goals should be to be in that 40.2% because it will give you a reliable player from Day 1 instead of potentially "discovering" the other 60% that will round out that post-season top-12 list. I used a variety of historical fantasy football rankings to create the pre-season consensus top-12 for this article; and I used VBD/VOR (value based drafting or value over replacement) to create the end of the season top-12 fantasy players' list. In this article I will discuss some tendencies based on first round fantasy football data from the previous six seasons that will allow you to take the optimal first round pick.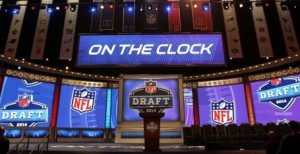 Lessons
Lesson #1: A QB was in the post-season top-12 list 12 times within the last six seasons. This average of 2 per year simply suggests that there may be about 2 QBs among the top-12 overall players in 2015 (perhaps Aaron Rodgers and Andrew Luck). Out of those 12 QBs, Drew Brees and Aaron Rodgers both made the top 12 three times each. 4 out of the 5 pre-season top-12 QBs made the post-season top-12 list. 2 of these times a QB had the largest overall VOR. This demonstrates that top QBs can indeed be worth a first round pick, and in a few cases, can even be worth the first overall pick.
Lesson #2: A TE was in the post-season top-12 list 5 times within the last six seasons; however identifying this top TE at the beginning of the season has been nearly impossible to do. This is because the 2 TEs that have been in the pre-season top-12 both failed to make the post-season list. So based on these data, I suggest avoiding TEs early on; however if you can pick out the right guy, the reward will be immense.
Lesson #3: RBs ranked in the pre-season top-12 made the postseason top-12 19 out of 49 times, or 38.8% within the last six seasons. Those figures do not sound strong considering the typical advice to always take a RB in the first round of your draft; nonetheless, that 38.8% is only 1.4% lower than the average pre-season to post-season top-12 transition that we want out of a first round selection. Also by using lessons #5, #6, and #7 you can learn how to narrow down on those mistake first round picks and take a RB that will have a strong chance to be in the post-season top-12.
Lesson #4: WRs ranked in the pre-season top-12 made the post-season top-12 7 out of 16 times or 43.8% within the last six seasons. This makes WRs seemingly a safer pick than RBs or TEs. Despite these numbers, a WR pick may not be the best pick to lead off your team because the mistake picks among WRs are harder to narrow down on as they typically have lower and smaller deviated risk values than the other positions. Using the Risk values on the Projections application within this website, I determined that over the previous two seasons, the pre-season top-12 WRs had an average risk of 3.9, smaller in comparison to RBs who had a 4.3 average. In addition, there is such an abundance of depth at the position, especially compared to RBs, that you may be able to get a solid WR later in the draft.
Lesson #5: DO NOT buy into hype on RBs whose draft day value has been inflated with little previous performance evidence. Out of the previous six seasons, only 1 pre-season top-12 player with this hype proved to be a wise pick (Eddie Lacy in 2014), the others Monte Ball (2014), C.J. Spiller (2013), Trent Richardson (2013), Doug Martin (2013), Steve Slaton (2009), and Ryan Mathews (2010) all ended up with bust seasons with a negative VBD/VOR score (i.e., they were worse than the typical replacement player). Consequently those players were not worthy of a starting position on your team those years. I determine players to have this "hype" around them by considering their performance in the previous season and seeing if their projection for the upcoming season is considerably larger (perhaps 40+ points more than previous season). This mostly will occur with younger players who have been awarded the starting job after a strong, but not nearly top-12 performance. Another way a player can be overhyped is if he has only one strong "fluke" like year on his resume, which is used to create his projection, as was the case with Doug Martin in 2013.
Lesson #6: Age Risk, yes players can have comeback seasons or even flashes of fantasy brilliance when older like Peyton Manning, but sooner or later that player's performance is going to decline. Here is a helpful link that shows the declining performance in players as they age. You do not want to waste your 1st round pick on an old player that you think may still have some fantasy production left in the tank. The reward that you receive from that player potentially succeeding does not outweigh the risk of him not delivering fantasy points, as was the case in 2009 with LaDainian Tomlinson and 2010 with Randy Moss. In drafting your starters, your goal is to maximize your projected points while minimizing risk. On the other hand, you should be willing to take more risk with your bench players because with risk comes potentially larger upside and those players have the chance to outperform your starters. This link discusses this strategy in greater detail: http://fantasyfootballanalytics.net/2013/09/win-your-fantasy-football-snake-draft.html
Lesson #7: Injury Risk, For your starting lineup, avoid extremely injury risk players like Darren McFadden who was a top-12 pick in 2011 and 2012, or Steven Jackson in 2009. Our tools include estimates of injury risk from Sports Injury Predictor.
Conclusion
In summary, "playing it safe" with your first round pick is the greatest way to gain an advantage out of your first round pick and set the tone for your fantasy draft and season. "Playing it safe" means avoiding players with injury risk, and uncertainty risk that is caused by hype or age in some cases. You want to choose a player that you (and the crowd) believe will be a top-12 player but more importantly has lower potential to be a bust. Picking Matt Forte over say LeSean McCoy in the first round last season was not the flashiest pick, but Forte was the definition of safe based on a low risk rating. Forte is always a top-20 point scoring fantasy RB, recording about the same amount of points each game with low scoring variability. Forte also had a low risk rating of (2.31) last season. On the other hand, McCoy had the higher upside of the two players, yet was not as safe of a pick surrounded by the uncertainty of the Chip Kelly offense and Darren Sproles new in town as his backup; risk rating of (4.26). McCoy ended up with a post-season VBD/VOR of 52—73 points less than Forte's 125. It is your job in the first round to weed out those uncertainty type players, perhaps with the help of the risk level R script or as featured on the Projections application within this website.
Applying these lessons to the upcoming 2015 season makes me wary of RB C.J. Anderson (risk level: 6.3) and WR Odell Beckham Jr. (risk level: 9.04) both of whom only have last year's numbers and hype surrounding them as a basis for their projections this season. Although they might meet or even exceed their hype, they have a greater downside than other players, such as Andrew Luck (risk level: 4.54), Marshawn Lynch (risk level 4.15), and Antonio Brown (risk level 5.48). Also I would hesitate in drafting RB LeVeon Bell (risk level: 9.55) and TE Rob Gronkowski (risk level: 8.23) as they both have some injury risk, and Gronk as a TE has a poor track history at becoming a post-season top-12 pick as mentioned in Lesson #2. The rest of the potential 1st round draft pick field appears relatively safe and contains some aforementioned players like Matt Forte and Aaron Rodgers.
*Note: I used worst starter VOR style. I used only the past 6 seasons for this data to account for the more recent style of play changes as well as the increasing accuracy of projections as evident by an increasing R-squared value measuring the accuracy of fantasy football projections over the years. For more info on how to examine the accuracy of historical projections, see here.
Also, 6 seasons worth of players still reflects a large data sample pool. I used the standard scoring 12-team format to account for those larger leagues while still staying as close to the standard scoring 10-team leagues as possible.
The risk level point value measures: risk of injury and degree of uncertainty of players' projected points (higher=greater risk; mean=5, SD=2).