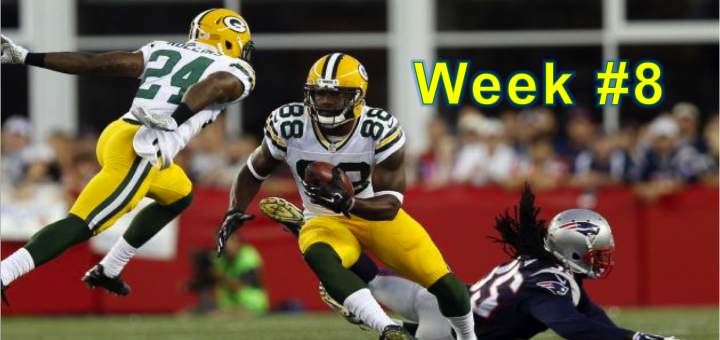 Picking up a speculatory kicker on a week-by-week basis is a strategy often thought of but not utilized. The Top 9 Most Owned Kickers on ESPN.com this season are:
Adam Vinatieri
Stephen Gostkowski
Steven Hauschka
Matt Bryant
Justin Tucker
Dan Bailey
Mason Crosby
Dustin Hopkins
Matt Prater
Below is the average actual points scored of these players and actual points scored by the next two highest projected remaining kickers based upon fantasyfootballanalytics.net projections.
W1: TOP 9: 10.4, Nick Novak: 10, Cairo Santos: 10
W2: TOP 9: 8.4, Josh Brown: 10, Chandler Catanzaro: 10
W3: TOP 9: 11.6, Josh Brown 9, Connor Barth: 5
W4: TOP 9: 8.2, Blair Walsh: 6, Brandon McManus: 9
W5: TOP 9: 9.6, Blair Walsh: 7, Chris Boswell: 8
W6: TOP 9: 9.8, Nick Novak: 7, Dan Carpenter: 10
W7: TOP 9: 8.4, Mike Nugent: 5, Cairo Santos: 10
There is no significant difference between these points scored meaning that the strategy of picking up a new kicker on a weekly basis is equivalent to keeping one for the season. Including Adam Vinatieri as an exception this season, the best strategy is to wait for kickers in the draft and if you are unable to find a consistently successful kicker, use the week-by-week approach.
---
My Favorite Value Plays this week are:
QB Jameis Winston (TB) (vs. Raiders)
Winston has possibly turned the corner on his fantasy struggles this season posting 4 TD's to 1 INT the previous two weeks. This week he gets the league worst (32nd ranked) Oakland Defense. For standard leagues… consider trading for Buccaneers Offensive Weapons. After the Raiders, the Buccaneers will be approaching matchups against the Falcons (26th ranked), Chargers (21st ranked), and Saints (29th ranked) twice during the fantasy playoffs window.
RB DeVontae Booker (DEN) (vs. Chargers)
C.J. Anderson is OUT due to injury and thus Booker has become the lead back for the Denver offense. RB's on the Broncos have had great success as a unit in previous seasons, but this is a very rare situation where they will lean on a one-back system. Booker was priced at his running back by committee value and thus is a cheap upside play.