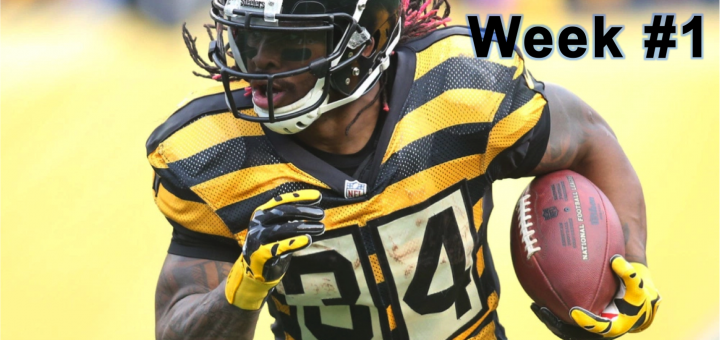 September has come and so too has football. By now, your fantasy team is likely drafted and you are just ready to sit back and watch some football. For now, your fantasy focus is exactly where it should be, solely on Week 1 as you anticipate the start of the season. Year after year fantasy football proves to be a game that is won on a week-by-week basis and that is why it is important to assemble your best roster each and every week.
I consider Week 1 to be the toughest NFL week to predict (but see here). There are new faces, people in new places, coaching changes, returns from injuries, and so many additional variables. Where you can normally draw upon recent performances to predict success, it is much more difficult to do that for a player or a team the first week. On the contrary, there are still many underlying trends that should be noted. Over the last 3 seasons, top players and top defenses tend to thrive Week 1.
The leading WRs during recent week #1's have been: Julio Jones, Calvin Johnson, and A.J. Green.
For QBs: Tom Brady, Matt Ryan, and Peyton Manning
For RBs: Carlos Hyde, Marshawn Lynch, and LeSean McCoy
Now these are just the players with the most points; but if you take a closer look at the extended version of this list for each position, there are very few "surprise" players. So whether it be daily fantasy or your weekly league, play your studs this first week and trust those studs to perform.
Another tendency is that teams with top defenses usually win Week 1. Take the top 5 fantasy pre-ranked defenses over the last 3 seasons (minus the 2015 Seahawks/Rams who played one another); 11/13 of those teams won their first matchup—that's 85% (2016: Bills, Jets. 2015: Seahawks, Broncos, 49ers, Bengals. 2014: Seahawks, 49ers, Bears, Texans, Broncos). Essentially, if you're picking games and are unsure, take the better defense. From a fantasy perspective, this can illustrate the fact that the Defense (against) rank, which is a carryover from last year, actually does carry meaning into the new season with some slight variation to be expected.
One last tip to consider is to shy away from Rookie QBs/New starters and their teammates who may be affected by their performance. A lot of these guys haven't had the chance to get into rhythms yet that simulate real game environments. Since 2010, there have been 13 rookie Quarterbacks to start Week 1. These QBs put up an average of 13.88 (median 13.9) standard fantasy points that game, and have a combined record of 4-9. A great example of someone to avoid Week 1 this season under this category is QB Carson Wentz and WR Jordan Mathews of the Eagles. Although the Eagles' matchup against Cleveland always looks juicy, there are simply too many variables and an ugly history against rookie QBs to warrant a safe starting spot on your team.
My Favorite Value Plays this week are:
QB Matthew Stafford (DET) & WR Golden Tate (DET) (vs. Colts)
Last season, the Indianapolis Colts had the 24th ranked pass defense. To begin this season, the Colts will be without their best corner Vontae Davis who is out with an ankle injury. This injury makes an already bad defense worse and additionally only Cam Newton and Russell Wilson had a better finish to their season than did Lions QB Matthew Stafford. Golden Tate should be in this stack because he is Stafford's most trusted returning player. The new Free Agent WR pickups (Anquan Boldin and Marvin Jones) that will be sprinkled into the Lions offense this season likely lack the same chemistry that Stafford and Tate already have. Sure these new additions will perform well throughout the season but it may take some time to get them going and until they ride Tate.
RB DeAngelo Williams (PIT) (vs. Redskins)
While Le'Veon Bell is out due to suspension, the Steelers will feed Williams and only Williams the ball on running plays. It's no secret what DeAngelo Williams was able accomplish last year while Bell was out and with little to no changes on the Steelers surrounding pieces, his 2015 success should be repeatable.
RB Latavius Murray (OAK) (vs. Saints)
One of the more underrated RBs this season, yet a Top 10 guy just last year. No matter your expectations for Murray, against a Saints run defense that has been horrendous for years, he could provide the top RB performance of week 1.
TE Jesse James (PIT) (vs. Redskins) 
In the two games that Martavius Bryant was suspended last season, Ben Roethlisberger primarily counted on two receivers: Antonio Brown and Heath Miller. Miller had 10 catches for 99 yards and a TD in those two games. Miller retired at the conclusion of the season and free agent addition LaDarius Green has been placed on the Physically Unable to Preform (PUP list) leaving the door open for Jesse James to fill the Steelers TE1 role. When Antonio Brown isn't open downfield, Big Ben will be looking to drop it off short and center, right where James should be throughout the game Monday night.
To win your league, don't forget to check out our weekly gold mining series and our weekly lineup optimizer.