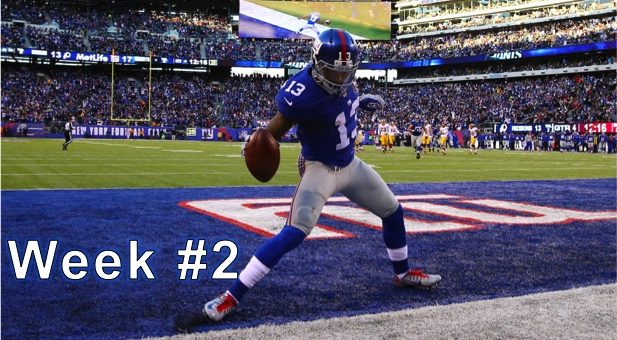 "Regression to the mean" is a phrase that is increasingly being used throughout the world of sports. Once just a term for statisticians, mainstream media such as ESPN and Sports Illustrated are latching onto the concept. Formally known as reversion to mediocrity, regression to the mean is a phenomenon that if a variable is extreme on one of its measurements, then the future measurements will tend to be closer to the average of its other measurements.
In Fantasy Football, the number of points that a player scores is a combination of luck in matchup/opportunities/etc. and skill which governs consistent success. When luck makes observed performance an imperfect measure of skill, the differences in performance exaggerate the underlying differences in abilities. Regression to the mean is not saying that a top player/team for multiple weeks in a row is "due" for a poor performance. Rather, those players should still perform above the long-term average of the league, just not reliably as well as in those previously superior performances. If you were to flip a coin 5 times and observe 5 "Tails" in a row, the next observed flip is no more likely to be "Heads" than it is to be "Tails"; however, over the long-term we expect the "Heads" to "Tails" ratio to regress to approximately 50%. In sports, the most practical notion that you can take away from the concept of regression to the mean is that people overvalue successful teams/players and undervalue the less successful ones.
From a week #2 fantasy perspective, do not expect Brandin Cooks, Eli Rodgers, Theo Riddick, Julius Thomas and others with high success to perform up to the same level that they did in Week 1, especially not consistently over time. The opposite is also true for players such as Devonta Freeman, Adrian Peterson, and Gary Barnidge who should expect an increase in fantasy points. Another way that regression to the mean works is over an entire player's career. Athletes at the top of their game now are likely to trend downward in the future as opposed to staying atop. So yes maybe drafting a Mark Ingram would've been better than Adrian Peterson who essentially only has one direction to go over the remainder of his career. This type of regression to the mean also explains things such as the Madden and Sports Illustrated curse (see here).
My Favorite Value Plays this week are:
QB Eli Manning & WR Odell Beckham J.R. (NYG) (vs. Saints)
Manning is the #2 Ranked QB through our projections app this week. Last season against the Saints, Eli Manning had 350yds and 6TDs. Improvement of that defense looks nonexistent based on the way they preformed last week against the Raiders. Manning's top target Beckham J.R. had 130yds and 3 TDs in that same Saints game last year, so pair them up. Beckham J.R.'s worst two performances last year came against the Dallas Cowboys, the team whom he faced in Week 1 this season. For that reason, Beckham carries value and would be a great trade target.
RB Jeremy Langford (CHI) (vs. Eagles)
Last season, the Texans (Langford's Week1 opponent) allowed only 14pts a game to opposing RBs. The Eagles (Langford's Week2 opponent) allowed 20pts a game in non-PPR formats. As mentioned in last week's preview, most defenses vary little from year to year. Assuming that the Eagles rush defense is still weak, Langford is sure to do something with the 20 some times that the ball will be in his hands.
TE Gary Barnidge (CLE) (vs. Ravens)
There are two very good reasons why you can expect Barnidge to have a good game. The first reason is regression to the mean as explained above; the second reason is that Josh McCown will now be throwing to him as opposed to Robert Griffin III. Last year, Barnidge averaged 13.76pts per game when McCown started (7games). That is 61% of the total points he scored throughout the season. Two of those games were against the Ravens who typically shut down TEs. Take Barnidge in daily fantasy this week simply for his value and the lack thereof from the other TEs.