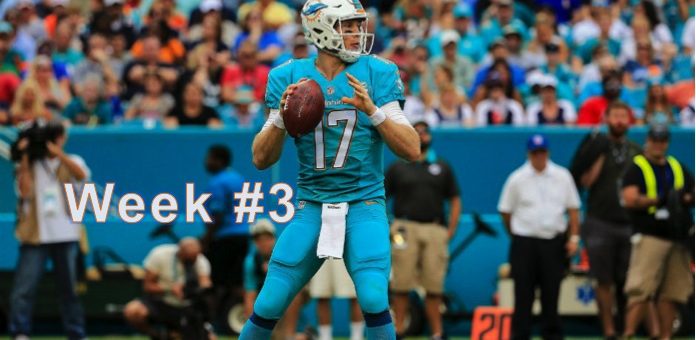 Adrian Peterson, Ameer Abdullah, Doug Martin, Danny Woodhead, Jonathan Stewart, Arian Foster, Keenan Allen, Donte Moncrief, Corey Coleman, Jay Cutler, the list goes on and on. Fantasy players might be surprised to learn this, but the amount of injuries has actually decreased slightly over the last three seasons. On the contrary, the long-term injury count has experienced growth for quite some time. One reason for the reported increase in injuries over time is the NFL's closer attention to player concussions. Another common belief is that players are becoming stronger and that the increased force of hits is creating more, longer-lasting injuries. This would also help to explain why the amount of time that players are missing due to injury is increasing at a steadfast rate. Injuries are indeed unavoidable, and unfortunately there is a lack of transparent research on which factors predict injury likelihood (but see here). This is something that I am planning to examine in the coming weeks by running a logistic regression model with predictors including position, age, and usage—let us know in the comments below if you have other suggestions for factors to consider.
For now, there are a few ways that you can tailor your fantasy roster to cope with injuries. One great metric on this website is Risk which tells us of the uncertainty of a player's projections (and includes an estimate of injury likelihood from Sports Injury Predictor). The Risk factor can work similar to having players on your roster that you may deem to be "injury prone." An optimal strategy for building around these high-risk players is to stock pile bench players of that same position. For example, if you drafted Le'Veon Bell and Arian Foster (2 high risk players) as your top two RB's, it would be paramount to stock up on RB depth, as Bell and Foster are the most likely to either get injured or underperform on your team. High Risk scores are not always disadvantageous, however, as a high-risk player can reward his owner with large dividends. Check out current Risk values updated weekly on the projections page here. Another common practice is to handcuff your starting RBs or even WRs in special cases. Most do this through the draft; however it can be accomplished throughout the year via trades and free agency. Essentially, the concept is to own the player whom would reap the most benefits from your starter getting injured. Consider it to be a safety net. Going back to an example where someone owns Le'Veon Bell, that person may want to trade for DeAngelo Williams once Bell returns and Williams' value diminishes. Once Williams is no longer the lead back, his owner may trade him at a rather cheap price and the reward/peace of mind of having him say Bell goes down again is well worth it.
My Favorite Value Plays this week are:
QB Ryan Tannehill & WR Jarvis Landry (MIA) (vs. Browns)
Both of these players are sure to be highly owned in Daily Fantasy this week with a matchup against the Browns. However, it is not just this matchup that makes these two a great play. For the past two weeks, the Dolphins have been up against two of the league's top secondaries, and as a result regression to the mean is likely. You have to like the way that the Dolphins offense finished the game against the Patriots and these two combined for 5 receptions for 96 yards on just the last three drives alone. Imagine if they carry that level of performance into this game.
RB Frank Gore (IND) (vs. Chargers)
The Chargers' rush defense, especially on early downs, is rather weak, but has been masked by the way the last two games have played out. Both the Chiefs and Jaguars found themselves down by at least 21 to the Chargers at halftime. The Jaguars alone only ran the ball three times in the entire second half. This is a good matchup for Gore, with a high floor; however, because Gore tends not have explosive games, the ceiling is not entirely high. To see the ceiling/floors of more players check out weekly Gold-Mining here.
WR Tyler Lockett (SEA) (vs. 49ers)
As of now, both Doug Baldwin and Tyler Lockett are probable for Sunday's game. Lockett, who was injured in the 2nd Quarter last week, came back into the game and had a 53yd reception late in the 4th Quarter. Dating back to last season, only the Saints allow more "big plays (40+ yds)" than the 49ers. As one of the most explosive wide receivers in the game, Lockett should be able to come through with at least 1 giant reception, regardless if Baldwin plays.