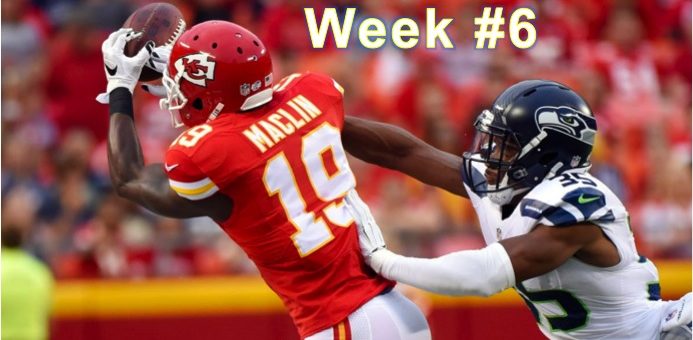 At this time during the year, it is important to take a look at the current VOR landscape to get a picture of what players or positions have been of the most value so far this season. VOR (Value over Replacement) is the idea that you measure players not by how many points they score, rather how many they score compared to others at their position. For more on VOR see here or here.
Currently, the top 15 VOR (12-team standard estimate) players are:
RB David Johnson (60)
D/ST Vikings (58)
RB DeMarco Murray (55)
RB Ezekiel Elliot (55)
QB Matt Ryan (43)
RB Carlos Hyde (43)
RB Melvin Gordon (43)
RB LeSean McCoy (42)
RB Tevin Coleman (41)
TE Greg Olsen (38)
WR Antonio Brown (36)
RB DeVonta Freeman (35)
QB Ben Roethlisberger (34)
D/ST Cardinals (34)
D/ST Bills (33)
What to note is the amount of RB's compared to WR's in this top 15 and any slight extension of rankings. Also, the average VOR of RB's above the 0 VOR cutoff line is larger than any other position. This statistic shows which position is of most value. Up to this point, it is currently worth more owning a top RB than a top WR. Where was this thought during pre-draft season? One interpretation is that these numbers will soon regress toward the projected average VOR based on previous seasons (more on this to come in future article). Principally, we expect the value of the starting WR to increase or starting RB to decrease over the course of the season. Regardless, RB is what you want to own on your team right now and other owners in your league may not respect that value. Additionally, do not be afraid to trade for a defense like the Bills. As a starting fixture on your team, defenses do pose a large VOR. Do not expect a defense to end up in the year-ending top 15, but you may only have to give up a bench position player to get a defense like the Bills who have a rather easy remaining schedule. One of the only flaws in the VOR system is that it does not account for a user picking and choosing starters or playing the free agent market like in the case of picking up a new defense every week. It is always better to maximize your week-by-week starters; however if skilled enough, interchangeable parts that beat the VOR can work.
---
My Favorite Value Plays this week are:
WR Jeremy Maclin (KC) (vs. Raiders)
Maclin's best game last season was against the Raiders where he had 95yds and 2 TDs. In his other matchup against the Raiders, he also recorded a TD. Maclin and anyone involved in the Chiefs passing offense will be popular plays in daily fantasy this week against the 32nd ranked defense.
RB Jordan Howard (CHI) (vs. Jaguars)
Yes again… Since becoming the Bears starting RB, only David Johnson, Ezekiel Elliot, and DeMarco Murray have scored more points than Howard. The asking price for Howard has gone up, but he still remains a value against a defense like the Jaguars.
WR DeSean Jackson (WAS) (vs. Eagles)
Jackson has historically played well against his former team catching 13 passes for 282yds and 2 TDs in his past 3 matchups. This year, Jackson has underperformed, but Coach Gruden has promised that Jackson would see bigger role in the offense in the near future (Washington Post). Finally if TE Jordan Reed (Questionable) sits due to concussion, Jackson and Jamison Crowder's targets would surely increase.