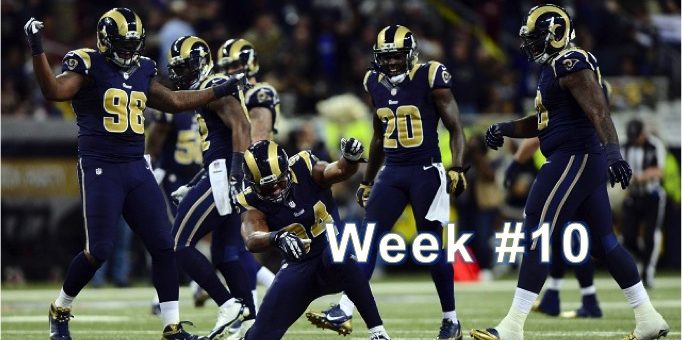 In most leagues, the trade deadline is fast approaching. With just a few regular season fantasy weeks left, competitive owners may be looking long-term. I do not encourage nor condone this activity but for anyone looking ahead just remember that a lot can change over the course of a few weeks. Just 4 weeks ago, we questioned if Ben Roethlisberger would be back in 4 weeks or 8 weeks, Jamaal Charles was finally getting ready to start, and Jay Ajayi had less points on the year than he's had in each of his last three starts.
For someone that's in-line for a playoff spot your best strategy may be to make a 2 for 1 trade. Under this strategy, you trade 2 players in an effort to upgrade for 1, more valuable player. This sounds simple and obvious but the problem is that most owners do not want to be on the receiving end of this trade. Ultimately, trading away any one typical "starter" + a typical "bench player" no matter how good the bench player is, for an upgraded starter can optimize your lineup. Think in terms of the total points that your weekly lineup produces. From this, find ways to improve upon this sum by gaining value via trade where you need it most. For those people looking from the outside in on a playoff spot, the opposite strategy may work best for you. Have Aaron Rodgers? Why not trade a player like Rodgers if the return of a lesser QB and position player increases the aggregate points of your optimal starting lineup?
Another key is to make sure you acquire your handcuffs, either by free agency or trade. I understand that there is a lot of skepticism around the idea of handcuffing and the issue has yet to be addressed on this website. What most experts find to be erroneous with the "handcuffing" strategy is that the presumed "handcuff" player is not always the right one. Surely this is a problem during the drafting stage of a season; however by now the Running Back Depth Charts have clarity. Handcuffing or the act of owning both the starter and backup at a particular position is most effective when that team's offensive line is effective. There is no secret that the Dallas Cowboys have one of the best offensive lines in the league currently. In just the last 3 years, DeMarco Murray, Darren McFadden, and Ezekiel Elliott have all achieved major successes. If you have a starter that plays behind an elite offensive line and he goes down due to injury, his handcuff is likely to have less drop-off than other handcuffs. A perfect example of this is DeAngelo Williams who can fill in for Le'Veon Bell by putting up nearly identical numbers. ProFootballFocus keeps an updated ranking of offensive lines that can be a useful tool in determining which RB's you want on Draft Day or at the trade deadline. The current top 5 includes: Titans, Packers, Giants, Redskins, and Cowboys. Another practical example is that Alfred Morris (14.5% owned ESPN) is more worth owning than Matt Asiata (49% owned ESPN) because if Elliot where to go down Morris would have much greater chance to succeed than if Asiata became the starter and although Asiata produces a baseline of points now, hopefully you are not desperate enough to start him in any lineup.
---
My Favorite Value Plays this week are:
QB Ben Roethlisberger (PIT) (vs. Cowboys)
In what most would consider a bad performance against the Ravens last week, Ben Roethlisberger still put up 18 standard fantasy points. That number is actually larger than any projected QB total by fantasyfootballanalytics.net this week. Roethlisberger has a long history of playing much better at Home, (122.2 career passer rating) vs. on the Road (72.2 career passer rating) and will likely bounce back to stardom against the Cowboys this week.
WR Tyreek Hill (KC) (vs. Panthers)
Who would've ever guessed that through week #9, the player with the most TD's on the Kansas City Chiefs is… Tyreek Hill. With Jeremy Maclin OUT more owners may catch on to this play in daily fantasy; regardless, Hill receives his fair share of snaps and against a weak secondary like the Panthers, Hill could break free for a long TD at any given time. By playing Hill in Daily Fantasy, you will be able to play more high priced studs like David Johnson, but in desperation Hill could even warrant a FLEX spot on your season-long team.
D/ST Rams (vs. Jets)
The Jets offense has turned the ball over more than any team in the league this season (14INT, 5Fumbles). On top of this, Ryan Fitzpatrick is expected to play with a MCL sprain in his left knee. Despite the Rams struggles, this matchup/value is too hard to ignore.